For stronger action on housing in Mt Roskill.
Average house prices in Mt Roskill have now exceeded $1 million, putting them out of reach of most people. As your MP for Mt Roskill, I will work with the Labour party to fix this.
Labour will establish an Affordable Housing Authority to work with the private sector to cut through red tape and get new homes built fast. It will partner with private developers, councils and iwi to undertake major greenfields and revitalisation projects, building affordable homes with KiwiBuild and the private market. These homes will be part of great communities built around parks, shopping centres and transport links.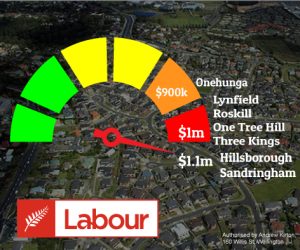 Labour's KiwiBuild programme will build 100,000 high quality, affordable homes over 10 years, with 50% of them in Auckland. Standalone houses in Auckland will cost $500,000 to $600,000, with apartments and townhouses under $500,000.
Increased house-building will require a larger workforce. Labour's Dole for Apprenticeships policy will subsidise employers to take on around 4,000 young people for on the job training in fields including building and construction. Labour's policy of three years free post-school education will see tens of thousands more people study in all fields, including building and construction. KiwiBuild is projected to create 5,000 new jobs at its peak.
Labour will make Housing New Zealand into a public service rather than an SOE, and will substantially increase the number of state houses. Unlike the current government, Labour will not milk state housing for a dividend, and will end its programme of state house sales.
Andrew Little's Healthy Homes Guarantee Bill is currently before Parliament. It will set standards that will require all rental properties to meet proper standards in: insulation, heating, ventilation, draught stopping, and drainage. This will ensure people who live in them don't get sick.